SIEM – key to ensuring security in the age of cyber threats
26 April 2023
3m 32s
In today's world, cybersecurity is one of the biggest challenges that organizations must face. Malware, hacking attacks, and privacy breaches are just some of the threats that can seriously harm business operations. To minimize the risk of incidents and ensure an appropriate level of security, companies use various tools, including SIEM systems.
What is SIEM?
SIEM stands for Security Information and Event Management. It is a complex tool used to monitor security in IT systems. SIEM collects, analyzes, and corrects information from various sources, including system logs, network devices, and applications. This system enables quick detection and response to cyber threats such as hacking attacks or suspicious user activity.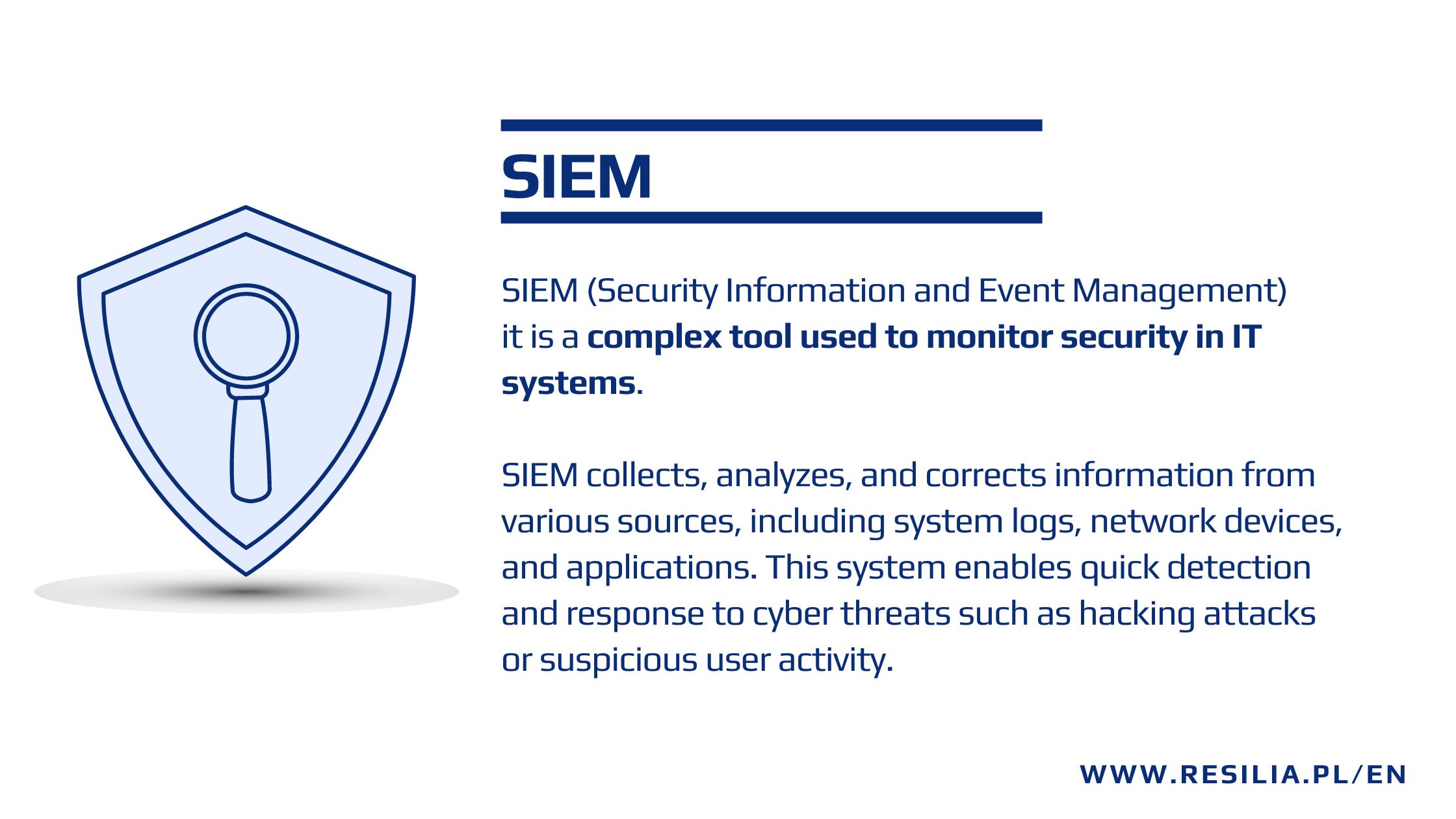 How does the SIEM system work?
SIEM works by combining various technologies such as incident analysis, anomaly detection, and event correlation. The system collects data from various sources and then analyzes it in real-time for abnormalities and suspicious behavior. When a threat is detected, the system generates an alert informing about the incident. For example, if a user logs into an account from an unknown device or location, SIEM will identify it as unusual activity and send a notification.
Key features of SIEM
The SIEM system has many functions essential for ensuring digital security. The most important of these are:
data collection and analysis,
threat detection and reporting,
automatic response to attacks,
integration with other security systems,
user activity monitoring,
analysis of cybersecurity trends.
Read also: The most popular methods of cyber attacks on companies and their clients
SIEM – one solution, many benefits
The use of SIEM brings numerous benefits in the field of cybersecurity to companies and organizations. The SIEM system:
enables effective detection and identification of threats that may be difficult to detect by traditional security systems;
shortens the response time to threats, minimizing damage, preventing interruptions in continuity of operations, and
allowing for a faster return to normalcy in the event of system failure or damage;
increases the efficiency and effectiveness of operations through process automation;
reduces the risk of data loss, unauthorized access to systems, and system damage;
by monitoring user activity, it reduces the risk of errors or violations of security policies;
helps to meet regulatory requirements and legal regulations, which is particularly important for companies operating in high-risk industries.
How to choose the right SIEM system? Requirements and implementation
Before implementing a SIEM system, a key task will be to identify business requirements and goals. These requirements will, of course, vary depending on the organization's specific nature and industry.
In each case, it will be necessary to specify what data, from what source, and in what quantity the system should collect. Then, determine how to store and analyze this data.
When choosing a tool, you should also consider the costs of implementing and maintaining the system, the level of advanced functionality, and compliance with legal regulations (e.g., GDPR). Additionally, it's worth paying attention to the system's ability to integrate with other security tools.
However, it should be noted that purchasing a solution is not everything. Implementing, operating, and maintaining the system may require significant technical knowledge and analyst involvement. Without adequate resources and functional infrastructure, SIEM functionality may be severely limited. To avoid these types of problems, it's worth using the services of specialists who will help you effectively utilize the system's capabilities.
Read also: How do hackers attack VIPs? Examples of cyber attacks on high-profile individuals
SIEM – a key element in ensuring cybersecurity for your organization
Ensuring a high level of cybersecurity in a company requires the implementation of effective IT security solutions, including, among others, a SIEM system. It allows for effective detection and response to threats, minimizes the risk of system failures and damage, and monitors user activity.
However, implementing SIEM requires a proper approach and resources, including qualified analysts who will be responsible for correlating and analyzing the collected data. Thanks to SIEM, companies can focus on their core business while increasing their resilience to cyberattacks.
---
Do you need support in choosing and implementing a SIEM system? Contact us at

kontakt@resilia.pl

. We will select a solution tailored to the needs of your organization.
---
Are you looking for more advanced services in the field of monitoring and handling cyber threats? Check out our 24/7

Security Operations Center (SOC)

.